Now that our major 2.0 update is out for both iOS and Android, what's next for us? We'll be attacking two major areas at once:
First, we've started working on our web access portal. We are going to launch it with view-only access at first, which will allow you to see your collection on any web browser at anytime (including on mobile devices), and included will be a multitude of sharing options so you can show your collection and wishlist off to friends, family, colleagues, groups, etc. After view-only access is completed, we'll jump into adding the ability to edit items on the web as well. With full editing coming soon via a web portal with the latest technologies like HTML5, creating a Windows app is now on hold for us as we re-evaluate how to minimize and modernize our codebases. The new web portal viewing and editing will all be included in our Cloud Sync service changes, and if you've already signed up to Cloud Sync within our apps, you'll get all of this functionality for free.
Second, at the same time, we'll also be transitioning away from all of the legacy Sort It apps from years ago. On Android we'll be pulling down all of the old apps, transitioning those users to iCollect, and streamlining our offering to make things more clear as to what our product line is. We'll be offering stand-alone apps (such as iCollect Books and iCollect Movies), and showing users a clear path on how to move to iCollect Everything if they wish. This new set of apps will help us reach a wider target audience while also not causing as much confusion as Sort It Apps once did. Once this is completed, we'll do the same on iOS. This is a months to year-long transition, but we'll slowly be cleaning up the App Stores and our offerings. For current users of iCollect Everything, you'll notice no changes from any of this.
After we've completed these projects, we do have more updates coming for iOS and Android. Everything from PDF export to bulk adding of items and more. In fact, looking at our feature and bug fix list, we have well over 100 new features and fixes we want to get into the apps as we look towards a 2.5 and a 3.0 release. As always, these updates will be free. Here's just a small screenshot of some of what's in our triage for future release: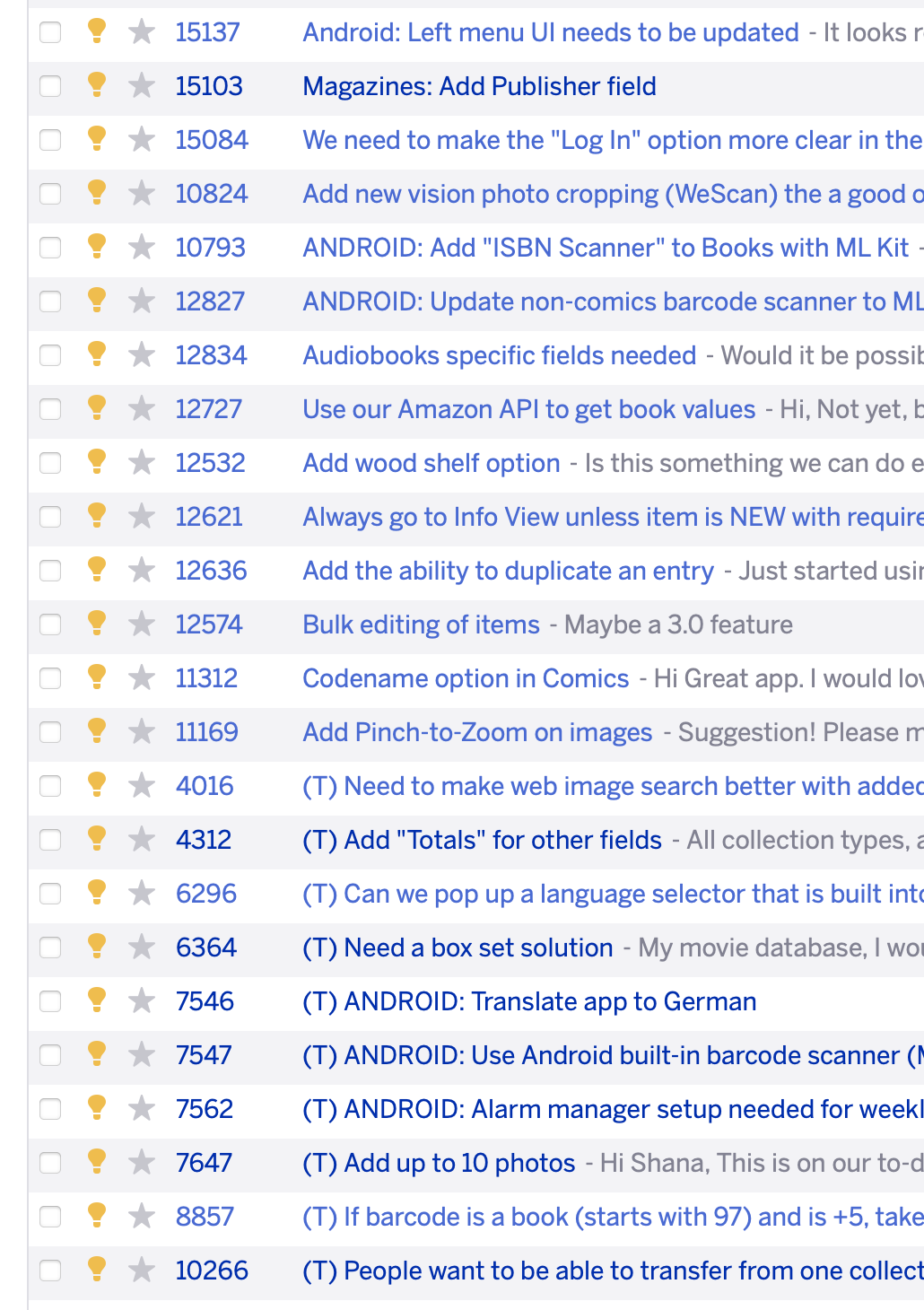 Thanks for the support everyone and there are still a lot of great things on the horizon for iCollect Everything, so stay tuned!