Track of your doll collection and wishlist
On your phone, on your computer, on the web.
Scan by barcode or use database search
Search by number of edition, designer, and more.
The most complete doll database available
Full pictures and details, including estimated value.
Any type of doll from any manufacturer
Dolls like Barbie, Bratz, Disney Designer, American Girl
Sync your collection between mobile, desktop, and web!
Both iCollect Everything for mobile (iOS/Android) and iCollect Everything for desktop (Mac/Windows) can be used on their own, or used to sync your collection between all your devices. They are best used together, along with our built-in web sharing feature, to allow access to your doll collection from any place at any time.
Use iCollect Everything on the go, whether with an iPhone, iPad, or Android. Then use iCollect Everything when you get home on a large desktop screen with a keyboard for quicker input and modifications of your doll data. And then share your doll and wishlist with friends and family using our web sharing option.
Latest news and releases for iCollect Everything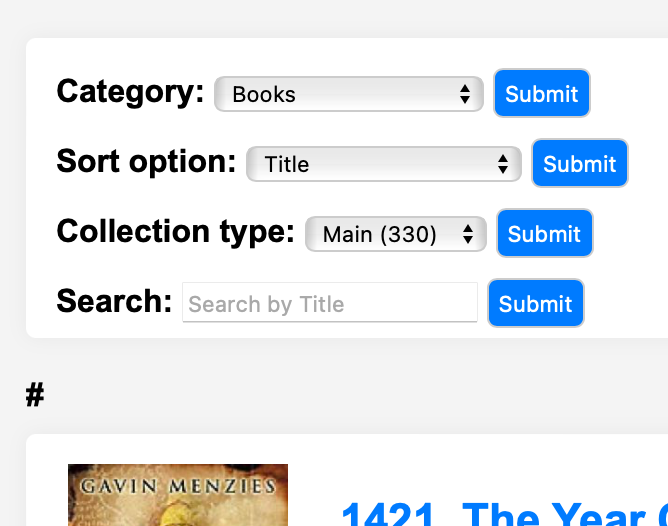 Another day, another round of updates. The 8.1 version of the iOS has rolled out and here's what's in the latest versions: Updates and fixes to the iOS apps (8.1.3) Fixed a bug where the […]
Reviews from customers
Perfect for maintaining your collections
"Loads of pre defined categories of many popular collections. Has the ability to create custom categories for more personalized organization. Very user friendly." - 5 stars from Dance1400 (Nov 12, 2023)

Great app for insurance summary
"Scan multiple types of collections for an easy summary" - 5 stars from rehbda (Nov 12, 2023)

Great app
"Love the app and have been using it for years, any technical issues quickly resolved" - 5 stars from FoxHoundDavid (Nov 01, 2023)

Great App
"I've been using this app for several years to track my movies, books, and POPs. It's a great tool and very handy." - 5 stars from DarqueDawn (Oct 29, 2023)

Amazing app!
One of the best apps I have for my collections of wine, stamps, movies and books. - 5 stars from JohnJohn (Nov 30, 2023)

Very useful
"I have been using this app for a few months now and I really enjoy how useful it is. I have cataloged a couple different collections of mine (comics and toy cars), but I will be adding more collections when I have the time. I'm glad it offers an option for custom collections because while there are a good amount of pre-made collections titles, there are things that I own that do not fit into their labels. Developers, good job, keep polishing this up and keep making this app more and more good." - 5 stars from T.Y. the music guy (Oct 25, 2023)

What a great app
"I use this app everyday for my Lego and hallmark ornaments and video games collection." - 5 stars from Three Top Dogs (Oct 21, 2023)

Great app for Action Figures
"I use the app regularly to keep track of my husband's action figures. Great app" - 5 stars from LAG444444 (Oct 21, 2023)

Very useful!!!!
"I have had this app almost a year. It helps me to keep track of my collections and makes it easy to keep me from buying doubles. Thanks for the hard work it took to keep this app updated." - 5 stars from Littler one (Oct 21, 2023)

Fantastic!
"This is a great app! The savory to create custom collections makes it incredibly useful." - 5 stars from Njcowles (Oct 20, 2023)

Amazing app!
One of the best apps I have for my collections of wine, stamps, movies and books. - 5 stars from JohnJohn (Nov 30, 2023)