Track of your toy car collection and wishlist
On your phone, on your computer, on the web.
Scan by barcode or use database search
Search by car title, catalog number, and more.
The most complete toy car database available
Full car details, like color and packaging.
Any type of car from any year of release
Hot Wheels, slot cars, die cast cars, Matchbox, etc.
Sync your collection between mobile, desktop, and web!
Both iCollect Toy Cars for mobile (iOS/Android) and iCollect Everything for desktop (Mac/Windows) can be used on their own, or used to sync your collection between all your devices. They are best used together, along with our built-in web sharing feature, to allow access to your toy car collection from any place at any time.
Use iCollect Toy Cars on the go, whether with an iPhone, iPad, or Android. Then use iCollect Everything when you get home on a large desktop screen with a keyboard for quicker input and modifications of your car data. And then share your toy cars and wishlist with friends and family using our web sharing option.
Latest news and releases for Toy Cars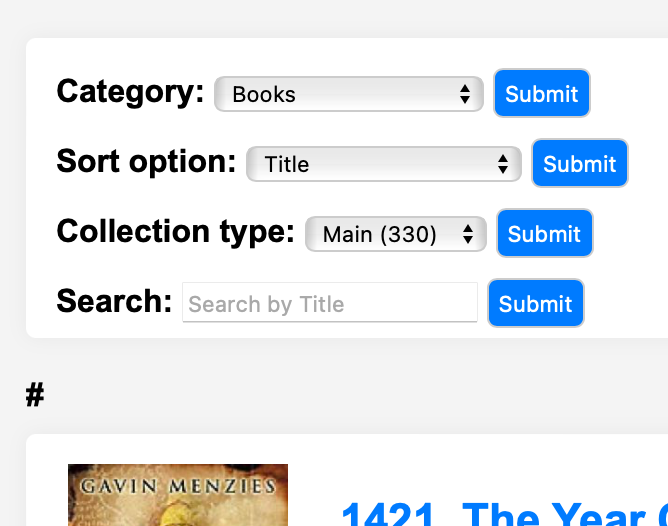 Another day, another round of updates. The 8.1 version of the iOS has rolled out and here's what's in the latest versions: Updates and fixes to the iOS apps (8.1.3) Fixed a bug where the […]
Reviews from customers
Very good to have
"Love this app..I have a bunch of hot wheels and I love to keep them organized and tracked, so having this app helps me make sure I don't have duplicate, so others can have the chance to find the ones they need. Very helpful thank you" - 5 stars from Order 6666 (Sep 03, 2023)

I love it!!!!
"I don't know what everyone is complaining about here with the one star reviews but I've had absolutely no problems whatsoever with cataloging and customizing the specific information I want for my personal collection. This is fantastic and my girl is happy because now I can actually box up and preserve my collection for my son and not have to have crap scattered everywhere 🤣🤣🤣 plus I'll know exactly what I have with one tap of my phone screen" - 5 stars from Irritated102519 (Jun 29, 2023)

Jet threat
"Couldn't find this car on any of the red line guides online. Was looking for info on it after I found one still in the box with the collector's button. This app found it in seconds." - 5 stars from red line jet threat (Mar 13, 2023)

ICollect
"It screwed up my collection by just putting everything in a line but not by order Would like sort it back" - 5 stars from rgilb129 (Jan 07, 2023)

Thank You!
"Only thing maybe if there could be a way to alphabetize the items when searching for new cars that'd be nice." - 5 stars from Los Losss (Dec 18, 2022)

Update wipes cars
"I updated the app and was forced to make a diffrent account to use after the update. I had 996 models stored then as it was loading them back in, it said there where a few errors with some cars and only 325 are showing. This app was great until the update. Trash update and now lots of time wasted." - 5 stars from mexican british A.R.T (Dec 10, 2022)

Amazing app!
"This has been the best way to keep track of my hotwheels, although I wish there was a value tracker like the Funko app, adding cars is super fast, easy, and intuitive" - 5 stars from Zebra_Scout (Jun 05, 2022)

A
"Nice" - 5 stars from luis180885 (Apr 22, 2022)

Great APP!
"I was told about this app from my sister. So I thought I'd try it out. I have so many cars in my collection I wanted a way to keep track of them. This app is great for that as I can find any car I have put on the app! It took a little time to figure it out but pretty easy. Still learning how to do stuff but worth the $5.99. The only thing I don't like about it is if you type a car in and it doesn't pull up a previous car listed you have to enter all the info about it." - 5 stars from Mikes toy cars (Nov 17, 2021)

This, right here!
"I am a novice at collecting Hot Wheels cars. I have a small collection but it is growing and I need a way to track it so I do not buy dupes. I read some of the reviews about this app and at first, I was hesitant to take the plunge however I'm glad I got both feet wet. This app is not simple but it is also not rocket science if you have a car collection get this app and use this tool to catalog what you got. It is worth $5.99!" - 5 stars from Mustang '82 (May 23, 2021)

Just what I was looking for!
"I just started using this app for my iPhone and I really like it" - 5 stars from flashlight101 (Jan 06, 2021)