Track of your book collection and wishlist
On your phone, on your computer, on the web.
Scan by ISBN, barcode or use database search
Search by author, publisher, and more. Full book details.
The most complete book database available
Book details and info for most countries.
Great for libraries and classrooms
Used by school districts and classrooms worldwide.
Sync your collection between mobile, desktop, and web!
Both iCollect Books for mobile (iOS/Android) and iCollect Everything for desktop (Mac/Windows) can be used on their own, or used to sync your collection between all your devices. They are best used together, along with our built-in web sharing feature, to allow access to your book collection from any place at any time.
Use iCollect Books on the go, whether with an iPhone, iPad, or Android. Then use iCollect Everything when you get home on a large desktop screen with a keyboard for quicker input and modifications of your book data. And then share your library and wishlist with friends and family using our web sharing option.
Latest news and releases for Books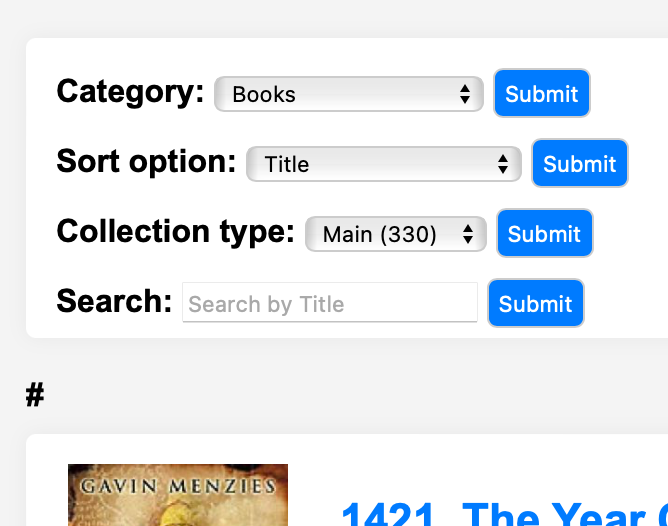 Another day, another round of updates. The 8.1 version of the iOS has rolled out and here's what's in the latest versions: Updates and fixes to the iOS apps (8.1.3) Fixed a bug where the […]
Reviews from customers
Better and Better
"I have been using iCollect Books for several years. I have no shelf control which means many books come into my collection. I love the organization of this app and the way I can quickly see "wait, don't I have that book already?!" Just by opening up the app and quickly searching the titles. Highly recommend this app for anyone who loves books!" - 5 stars from azbenders (Oct 18, 2023)

Great app!!
"Have used it to sort many of my collections and it's actually saved me from buying duplicates more than once! Worth it!!" - 5 stars from Rwbb200 (Oct 17, 2023)

Love this App
"I have used this app to catalog a library of books I gave away, then a new library as I have rebuilt. I also love the Wishlist feature and the fact that you get a photo of the cover. Makes remembering the books I want so much easier!" - 5 stars from eknight72 (Oct 16, 2023)

Great App
"Love, love, love this app! I have over 500 books and this is a great app to load my library so I can have all the information at my fingertips. The founders of the app are very helpful and respond quickly to questions. Highly recommend this app." - 5 stars from Drooky (May 31, 2023)

iCollect
"I use iCollect for everything that I collect. Love that I can export customized info. I also use this as a back up app to CLZ for comics, books, and video games. ICollect can sort anything, it's probably over all the best collecting app. Only CLZ is better for comics, books, & video games. I use iCollect for the below. Action figures Toy cars Zippos Bark river knives Comics Books Video games Trading cards." - 5 stars from Dinosaur Renewed (Mar 05, 2023)

Krazy Kenzie
"I am a hugggge bookworm and this app is perfect cause I have to many books to keep up with. I give this 5 stars😁" - 5 stars from kenzie sensen (Mar 14, 2022)

Lm
"I was not able to enter my recent book I read. Now I can't find anything. I need help. Not happy about the change" - 5 stars from Lynnem9 (Feb 21, 2022)

Highly recommend this application
"Such a useful piece of technology" - 5 stars from drewcali12 (Jan 25, 2022)

Perfect for preschool!
"Love this for our preschool!" - 5 stars from SaraKateinDixieLand (Sep 23, 2021)

Can't access book list
"I have tried to contact someone to get my new password but no one has responded" - 5 stars from 82 Clone (Jul 06, 2021)

Love this app!
"Great way to store and organize your books." - 5 stars from Guinn9 (Jun 20, 2021)